Gaiam invites you to live consciously, in harmony with the environment, the planet and the people who share our home. From yoga and fitness DVDs to nontoxic cleaners, we bring you eco-friendly, organic products and healthy living solutions to help you live your best life. Discover tools and products for health and wellness and green living from our catalogs and online collection.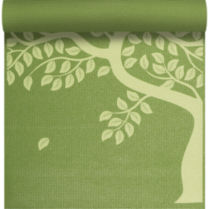 Durable and chic, Gaiam's printed Tree of Life mat provides a stable, non-slip surface for your yoga practice. Perfect for home or studio use, this mat ensures the safety and comfort you need to enhance proper alignment and maintain poses. Ideal for everyone, from beginners to seasoned yogis.
It's kind of funny, I would never try to go running in the wrong kind of shoes or the wrong type of clothes, but I have tried to to do yoga without a yoga mat! It's not easy to hold a position when my feet are slipping out from under me! I love my new Gaiam Yoga Mat! They have so many fun colorful patterns to choose from! It inspires me to do a little yoga just looking at it rolled up in my room! I also have really enjoyed being able to focus on my form and body strength when i do yoga.
You can shop for new yoga mats this holiday season from Gaiam, along with lots of other great holiday gifts!
~I received a product sample in order to write my review. I received no monetary compensation. All opinions expressed are mine.