The devastating earthquake of January 2010 has made it virtually impossible for Haitians to make a living. Raw materials have been wiped out, there are a lack of secure and sanitary conditions and little funding to support economic relief.
Purchasing one of these handcrafted masterpieces directly benefits Haitian artisans by allowing them to support their families with dignity and purpose. Artisans receive 22 percent of the retail price for each item in the collection.
This initiative offers the first sustainable income since the earthquake, enabling artisans to repair homes, pay school fees and feed and clothe their families. With steady income comes better nutrition, improved education and access to healthcare.
Heart of Haiti also offers new opportunities for artists to collaborate with US designers, strengthening artisan associations and inspiring and energizing their communities. Men and women are working together, gaining confidence and hope for the future. Master artisans who planned to leave the country are now staying behind to train the next generation. The tradition of rich and unique Haitian art lives on...
Here are some of the fun things you can purchase~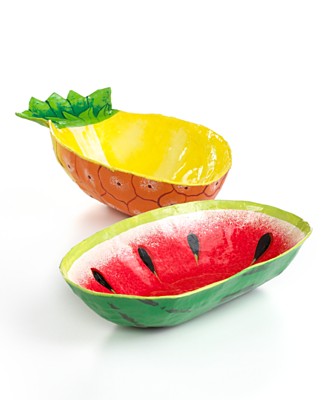 Fresh from Haiti's master artisans, these papier-mache fruit bowls are as bright and enticing as the real thing. Halved watermelon and pineapple varieties accent casual decor with a whimsical taste of the Caribbean.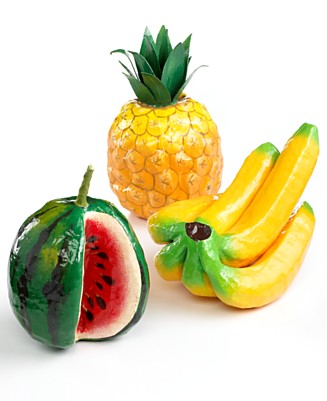 Take your pick. Fresh from the Caribbean, this vibrant paper-mache fruit is meticulously handcrafted by skilled Haitian artisans. Fill a basket to create a whimsical centerpiece.
I think it's wonderful that Heart of Haiti  is doing this  important work  to support Haitian artisans and their families and communities in the wake of last year's devastating earthquake.
The Heart of Haiti Project is an initiative founded by Willa Shalit (daughter of Gene Shalit) and her company, Fairwinds Trading, a for-profit company that uses business as a strategy for economic empowerment of people, especially women, in the Majority World. The Majority World is where two billion of the world's three billion people live, in poverty.

Their focus on women as a preferred partner is based in part on their history, in part on their leadership as a woman-owned firm, and in part on evidence that raising the standard of living for women has the greatest positive multiplier effect within families, communities and cultures.
I was selected for this very special "CleverHaiti" opportunity by
Clever Girls Collective
, which endorses
Blog With Integrity.
All opinions are my own. ~I received a product sample in order to write my review. I received no monetary compensation.