We were excited to watch The Search For Santa Paws DVD.
In the movie, when Santa and his new best friend, Paws, discover that the boys and girls of the world have lost the spirit of the season, they take a trip to New York City.  But after Santa loses his memory, it's up to Paws, a faithful orphan named Quinn (America's Got Talent's Kaitlyn Maher), her new friend Will (The Game Plan's Madison Pettis) and a wonderful group of magical talking dogs to save St. Nick and show the world what Christmas is really all about.  Do you believe in Santa Paws?  Experiencing this sure-to-be holiday classic, full of fun, adventure and a carrying the timeless messages of the holidays, with surely delight the entire family!
This is such a cute tale about the need for believing in the power of Christmas. Little Quinn's parents "didn't make it" and she is brought to live at an orphanage. Unfortunately, the Head of the orphanage is not very nice. Not only does she burn their toys and make them clean all day. Even worse she refuses to celebrate Christmas and doesn't allow singing or decorations.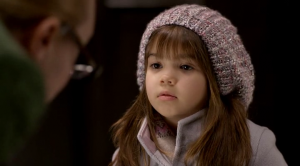 This movie is about believing in Christmas, believing in love. Our family really enjoyed this movie and it really got us thinking about Christmas. I don't want to spill the beans about the whole movie, but this is a tale you won't forget!
Check out this great clip:
You can purchase The Search For Santa Paws on Two-Disc Blu-ray/DVD Combo tomorrow! Right now you can pre-order for $23.99 on Amazon, $24.99 at Target, and $23.96 at Walmart.
You can check out my giveaway for The Search For Santa Paws here!
Bonus Features:
• An interactive Animated Pop‐Up Book – 'Buddies' puppy star Rosebud reads a holiday
story featuring new canine friends from The Search For Santa Paws
• Sing‐Along Mode ‐ colorful lyrics added to the film's song sequences, so audiences can
sing along to the film's fantastic new songs.
• Music Video – tween favorite Debby Ryan (Disney Channel's Suite Life on Deck) performs
a great new arrangement of 'Deck The Halls.'
• Deleted scenes
To get ready for Tuesday's release, there are plenty of fun Santa Paws PDF coloring and activity pages available.
~I received a product sample in order to write my review. I received no monetary compensation. All opinions expressed are mine.