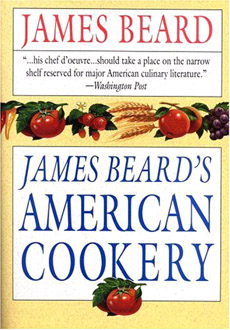 What a great cookbook this is, in fact I would call it a classic! It was first published in 1972 and it's been call the Bible of American Cooking by The Kind of Gourmets by Time Magazine.
This cookbook is filled with all the basics recipes and with a little history behind them.
Here are a few that I tried~
These are a classic muffin. They are very similar to my favorite muffin recipe. I did add 1 cup of chocolate chips.
Simple Muffins
2 cups flour
1/4 cups sugar
1 tablespoon baking powder
1/2 teaspoon salt
1 egg
1 cup milk
1/4 cup butter, melted
Heat oven to 425. Spray a 12 cup muffin tin with Pam. Whisk all the dry ingredients in a bowl. Add the egg, butter and milk and mix well. Scoop into muffin tin with a 1/4 cup ice cream scoop. Bake for 20~25 minutes.
This is such an easy bread to make. I just used a wooden spoon and it turned out really well. I will use less salt next time, maybe 1 teaspoon instead of the 1 tablespoon.
Sweet Potato Batter Bread
2 tablespoons yeast
1/2 cup warm water
1/2 cup mashed sweet potato or yam
1/4 cup sugar
3 tablespoons butter
1 tablespoon salt, I would use 1 teaspoon next time
2 eggs
3~3 1/2 cups flour
Proof the yeast in warm water, I added 1 teaspoon of the sugar. Add the mashed potato, sugar, butter, salt ,eggs and 1 1/2 cups of the flour and blend well. I used a wooden spoon. Beat in the rest of the flour to form a rather stiff dough. Cover and allow to rise in a warm spot until double.
Beat with a wooden spoon or spatula. Transfer to a well buttered loaf pan and smooth top. Allow to rise again until double. Bake at 375 degrees for 35-45 minutes or until nicely browned. Remove from oven, let cool for 5 minutes before removing to a wire rack to cool.
These are the best Snickerdoodles! They are light and crisp on the outside and just right on the inside. My regular recipe doesn't have the milk in it. These are best eaten right away!
Snickerdoodles, Snipdoodles or Schneckenoodles
1 Cup butter, room temperature
1 1/2 cups sugar
1 teaspoon vanilla
2 eggs
1/4 cup milk
3 cups flour
1/2 teaspoon salt
3/4 teaspoon soda
1 teaspoon cream of tartar
Topping
3 tablespoons sugar
3 tablespoons cinnamon
In a large bowl whisk the flour, salt, soda and cream of tartar.
In a mixer beat the butter and sugar. Add the eggs and vanilla and beat well. Alternately add the milk and the dry ingredients. Roll in tubes in wax paper and chill for 2 hours.
Heat oven to 375. Remove the rolls of dough and slice. Roll slices into balls and roll in cinnamon and sugar mixture and place on cookie sheets. Bake for 10 minutes and remove to wire racks to cool.
~I received a product sample in order to write my review. I received no monetary compensation. All opinions expressed are mine.