Don't you love purses? I do! I get so excited when I find a new purse! I recently came across Oufi~
OUFI.co.uk is a handbag fashion site for lovers of fashion. They try to offer the fashionestas amongst us exactly the leather handbag she wants at an affordable price. They are on the lookout for the latest street fashion as well as the top brands to bring you the latest looks from the world's catwalks.
Well girls, that's me I guess a fashionesta! And I got to pick a brand new bag! I love a bag with a name, and this one is named~
Silvia!
This is an awesome bag with fashionable quilted body and funky chain tassel charms. It has tons of room and is a perfect day through  evening style.
I love this bag! At first I thought the color was a little different, but I like it. It's kind of a grayish tan, but it matches everything and it's not to big or to small. The chains and the tassels just make it. It's the kind of color that looks different depending on what you are wearing.
It has double straps and they  stay on my shoulder really well. It has a magnetic closure which I really like. I'm to lazy to zip up a purse all the time. It has a pocket inside on one side that just holds my cell phone and the other side has a zippered pocket. It is really a great size purse, not huge like a lot of purses out there. I also love the lining, it has unicorns on it! I almost forgot to mention that it's made from real leather and it's made really well. I can tell that this bag will hold up for years!  I also really love that my new purse came from London!
Sloan and I did a little photo shoot with my new purse~
Let me introduce you to some more of the girls~
Phoebe is a large zip top clutch.
So, if you want to shop for handbags, purses and bags be sure to stop by Oufi!
You can connect with Oufi on these social media's, Facebook, Twitter and their blog!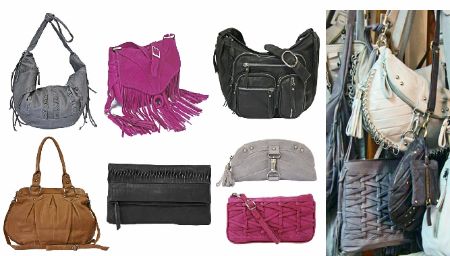 ~I received a product sample in order to write my review. I received no monetary compensation. All opinions expressed are mine.